Articles
IT News article listing »
Posted on November 25, 2014
Biz Stone just launched his second post-Twitter app: Super.
One part Secret, one part meme generator, Super is all about sharing short ideas with friends and people nearby in creative, somewhat offbeat ways.
The app allows you to create and share short thoughts or opinions overlaid onto photos. Each thought begins with one of the app's built-in prompts, like "The best," "I'm thinking," or "Check Out." Users then add their own text to finish the thought, pick a photo and sign it.
This is the second app out of Biz Stone's Jelly Industries, which launched the question and answer-based app Jelly in early 2013. While that app was premised on the idea that people can answer questions better than algorithms, the Twitter cofounder said his team's second app is meant to be "just fun," which is clearly evident in the app's offbeat templates and preset neon images.
"We laughed a lot while prototyping Super and that was a sure sign we were onto something," Stone wrote in a post on Medium. "I remember doing just that when we were prototyping Twitter eight years ago."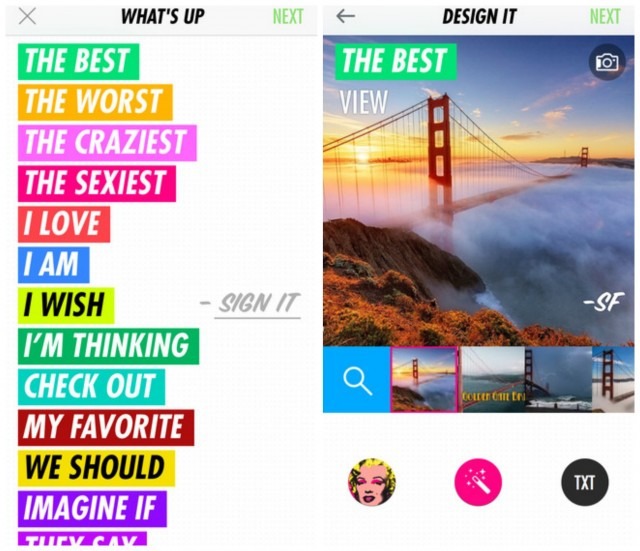 Users can choose to identify themselves or remain "anonymish," though users can't respond to others' posts anonymously. The app doesn't offer true anonymity, however (hence the "ish"). Users may be able to determine the author of a post even if they opt to remain anonymous, according to Super's FAQ FAQ.
Here's the catch: Super isn't designed as an anonymous sharing platform. It's not engineered to hide your identity! So we use "ish" as a way to convey that, well, people may be able to figure out who said what. Only follow one person and an anonymish Super post winds up in your friend's feed? Guess what? Gotcha. Anonymish is intended to be fun, like the rest of the app. It's for light-heartedness, not for trolls.
The free app is available for iOS and Android and Stone says many more features are in the works for future updates.
Read more at http://mashable.com/2014/11/17/biz-stones-super-app/