Articles
IT News article listing »
Posted on November 17, 2014
Keyword research is one of the most important and valuable activities in marketing, not just search engine marketing, but marketing in general and should be the starting point of your marketing plan. We know that people are doing more and more of their research online to determine what they want to buy and who they want to buy from. Therefore, consider keyword research as a component of market research that helps us better understand what our target markets are interested in and what terms they use to find what they need.
With the updates to the Google search algorithm placing emphasis on semantic search, we need to change the way we have traditionally thought of keywords. Semantic search allows users to search entire sentences or phrases to find what they are looking for. For example users will enter "find the best steakhouse in Boston" rather than typing in "steakhouse Boston".
For small businesses who are seriously honing their online presence to provide content and attract the right client, understanding our target audience and they way they search is valuable to our online success.
Keyword discovery – Understand what your customers are looking for
We can intuitively select a few keywords and keyword phrases that are important to our businesses, but in order to ensure you are using the right keywords, you should spend a little time doing keyword research to help you get a better, more effective list.
The goal of keyword research is to not only find suitable keyword phrases for your business, but also to understand how questions are being asked by your target prospects. There are many tools you can use to help you with your search, but for small businesses, let's keep it simple.
Related Resource from B2CWebcast: How to Create Killer Email Conversion Copy
Google Suggest
Google Suggest is the name for Google's autocomplete function. Google provides the autocomplete function to help searchers find information more quickly.
Take your keyword idea and start typing it into the Google search box to get up to ten suggested search phrases related to your keyword. These more targeted suggestions reflect the search activity of users and the content of web page ideas.
Google Keyword Planner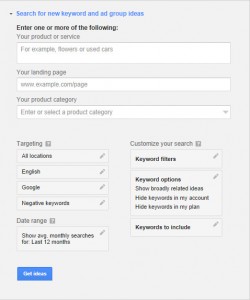 Google Keyword Planner allows you to research keyword phrases more strategically. If you have a Google account, create a Google Adwords account and then go to Tools > Keyword Planner > Search for new keyword and ad group ideas.
The results of your search will give you a number of keywords that you can then evaluate for relevance to your business. When I searched for "marketing coach", the results gave me 801 keywords to review organized by ad groups which are containers of relevant keywords. I can also download a CSV file of all the keywords.
It is important to note that in addition to the keywords, you also get the average monthly searches for each word and whether competition is high, medium or low. High competition means you will need to work very hard to obtain visibility for that word. For example there are over 22 thousand average monthly searches for the phrase "marketing plan template" and although I offer a free marketing plan template for those who sign up for my email list, I don't try to rank for that keyword phrase.
Sort, prioritize and refine keyword phrases
Now that you have a spreadsheet of keyword phrases and the average monthly searches and competition for each, it's time to prioritize the list. Use your judgement based on the relevance of the word or phrase to your specific business. Remove those that are not important and look for those low monthly search but highly specific long tail keywords that are more likely to attract the right audience to your business.
Don't limit your use of keywords to search engine optimization of your web pages. Whether you are writing a press release, an article, a blog post, updating web content or creating your social media profile, use your keywords effectively to help you be found by those who want and need your services.
Understanding how your ideal client searches for the products or services you offer can help you refine your content marketing strategy that helps you get found more readily. As you develop your marketing plan, be sure to start with a solid keyword list. It will help you make your marketing activities more effective.
Read more at http://www.business2community.com/seo/keyword-research-target-market-research-01048642