Articles
IT News article listing »
Posted on October 31, 2014
Prior to the age of the internet, the business of print was predominately local. Independent print business owners, franchises, and corporate owned print retailers operated print businesses serving their local or regional communities. They competed against each other in a local community constrained by geography. In retail; location, location, location was the mantra – position yourself in the right area and be rewarded with customer traffic.
The local community "searched" for your business via the Yellow Pages (an ad supported, alphabetized and business categorized book that was delivered for free to every resident in the community). The Yellow Pages served as the primary way local customers initiated local business interactions in the pre-internet age. The Yellow Pages model drove behavior, business names were optimized for alphabetical listings, for example AAA Plumbing.
What did a local business have to do to get "found" in the Yellow Pages? Once a year you had to submit the listing, validate your local address, and potentially invest in an advertisement in the category for "printers". This was easy to understand and the decision making process worked at what we would now consider glacial speed (once per year).
If you have not noticed, the Yellow Pages are irrelevant. This whole model is gone.
So what have you done to assure your company/products/services "get found" in the new online world? Unfortunately, most local businesses (printers included) have not made nearly the effort required to "get found" online today. Compared to the Yellow Pages, today's process is more complex, requires a lot more learning, and the decisions and investments need to be made continuously – not just once per year.
Many local and regional businesses errantly think that if their business model is a direct sales/business-to-business model, they do not have to worry about getting found online. Nothing could be further from the truth. How do you think potential customers of yours (businesses in your area) are looking for new vendors? They are going online and typing into Google phrases like: "marketing fulfillment services Buckhead". This is a phase that combines what the customer needs with a local term (Buckhead is a suburb of Atlanta, GA), which in the search engine world is called a long-tail localized phrase. The advantage of a long-tail phrase is that you don't compete with national providers, there isn't as much search traffic or competition on long-tail phrases but it is more targeted traffic to the customers you want to "find you".
In the Yellow Pages era, your only option to track the effectiveness of your ad would be to ask every prospective customer how they found you and then keep an ongoing tally. Very few businesses did this because it was too cumbersome once your business reached any meaningful scale. You paid for your ad, you submitted your listing, and you assumed you could be found by the local community you served. This was a pretty accurate assumption for many years.
Online search is so different in just about every way imaginable.
The Yellow Pages had some built in constraints; total participation was limited by the local area, businesses that filled out the information to be listed, and then the businesses who invested in the advertisements. All this was further limited by the fact that you had to fit this into a physical book, printed once per year, that people could realistically store and use. The whole model was based on constraints; only a limited number of people could purchase full page Yellow Pages advertisements for example.
If there's one thing that characterizes the online world better than anything else it is the lack of constraints – especially when it comes to data storage and retrieval. How do you "find things" in a system that has unlimited capacity? The modern day solution is a complex, ever-changing set of search algorithms primarily dominated by one company – Google.
Getting "found" online today means you have to understand the language of the customer. I believe this is a fundamental change that we have not fully realized yet. The internet has put the customer's language in the pilot's seat. Getting "found" comes down to you understanding what your potential customers will type into Google search. This should make us think about the language of business – why would you make up words for products and services that require explanation? Why hasn't business realized that the best language to adopt for your business is the language of your customers!
Online search is now the Yellow Pages and getting "listed" online requires you to understand how apply search engine optimization (SEO) strategies to your online presence. A SEO optimized business will show up in organic search results for the terms and phrases you believe your customers would type to find your products and services. Organic search results are the non-paid-for results that Google presents.
This applies to all businesses; international, national, regional, local, and all vertical markets.You are no longer paying one provider (Yellow Pages) to get listed. You are now competing to rank in a search result against competitors. Those competitors can and will extend way beyond your local community. Here's an example: I typed into Google, "Barbados card printing" and Zazzle came up because they have created a series of postcard designs themed "Barbados". So in a sense printers in Barbados are now competing with Zazzle, a company based in the San Francisco Bay Area. The ranking changes all the time because Google changes the math behind it and the market (you and your competitors) is constantly changing what it does to impact the organic search results.
The primary objective of your online presence is to make sure you are "findable" online. All this fuss about what your website looks like, what colors represent your brand best mean very little if potential customers can't find your site. All website projects today should begin with a SEO foundation that then impacts every single decision you make online. You have to accept the fact that "getting found" is something you have to continuously invest in. A SEO foundation is an online presence that is optimized to be "found" by your targeted customers and prospect. The primary components of a SEO foundation include your keyword strategy, your on-site optimization, and a content marketing plan. This plan requires SEO expertise, internal marketing resources, and a web technology platform that can support your overall marketing strategy and specifically your SEO strategy.
Let's define "getting found" a little more specifically. Remember how hard it was to measure the ROI against your Yellow Pages advertisement because you had to ask every customer how they found you? The online world has converted marketing from a design dominated endeavor to a measureable science. Your investment in a SEO foundation will be measured by how buoyant your company is in a Google organic search result. Location, location, location – remember that retail mantra? Well the online version of this mantra is the top five results on a Google search.
You know that Google provides pages and pages of search results – don't bother paging through them all.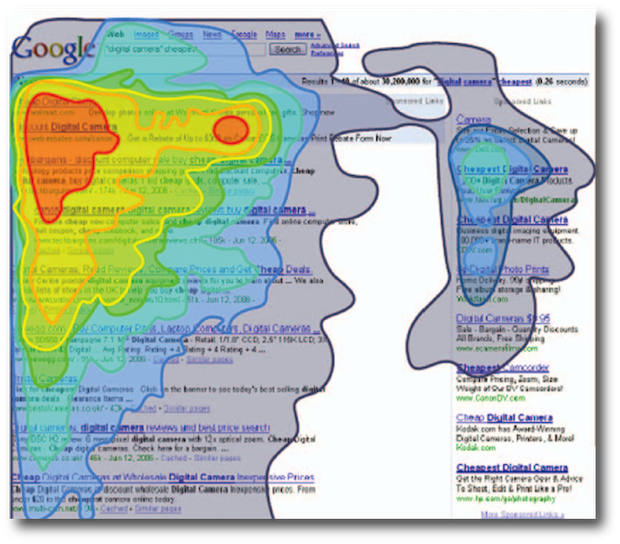 71% of searches result in a page one Google organic click.
Pages two and three get less than 6% of the clicks. On page one the first five organic results account for 67% of the all clicks. Getting found online today means getting on page one of Google.
The graphic below is a Google Heat Map which depicts where people click on page 1. Google has responded to this pattern by offering ads on both the side bar and now up above the organic search. This is an attempt to carve off some of the organic search results into Google paid search.
My colleague and search engine expert, Valerie DiCarlo will be starting a 3-part series on "Getting Found" next month that will dive deeper into the three core components of your SEO foundation: keyword strategy, on-page optimization, and a content marketing plan.
Read more at http://whattheythink.com/articles/71080-getting-found-yellow-pages-online-search/