Mindanao
Geography
Mindanao, located in the southernmost tip of the Philippine archipelago, is the country's second largest island with a land area of about 95,000 sq. kms.
The landscape is varied, consisting of plains and valleys which are ideal for plantations, hills and mountains -- including the highest peak in the Philippines which is Mt. Apo towering at a height of 10,311 feet above sea level -- forest areas, rivers, and an extensive coastline that is rich in aquatic resources.
The region sits outside the typhoon belt giving it a generally good weather condition.
The soil is rich, making it ideal for the production of some of the country's major agricultural products such as fruits (pineapple, banana, etc.), palay, corn, and coconut. Some areas are also good sources of mineral products.
Economic Status Mindanao, along with the National Capital Region (Metro Manila), registered an increase in its share to the national growth in 2000. (The Philippine economy posted a modest growth in 2000 at 4% compared with the 3.4% registered in 1999. ) Mindanao's share increased to 22.2% from 15.8% for the period in review.
Mindanao also posted a 6.4% net improvement in terms of its share to the national growth, owing largely to the performance of Western, Northern, and Southern Mindanao which offset the deceleration in Central Mindanao, Caraga and in the ARMM.
Regions in Mindanao also played major roles in the gross domestic regional product. For the gross value added in agriculture, fishing and forestry (AFF), Southern Mindanao had the second largest production level at 11.3% next to Southern Tagalog at 18.3%. For the gross value added in indstry, Southern Mindanao had the highest growth rate at 10.1% and the second in terms of production level next to the National Capital Region at 65.2%. For the gross value added in services, Central Mindanao posted the highest growth rate at 5.6%.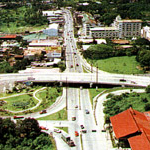 Other pertinent statistics:
3.9% growth in Gross Regional Domestic Product
3.6% growth in family income
31.0% growth in investments
18.4% growth in exports
22.6% growth in bank deposits
37.8% growth in loans
31.0% growth in energy use
While infrastructure remains a major concern in Mindanao, the region already has an established infrastructure system including telecommunications, information technology, major and arterial road network, domestic and international seaports as well airports.
While Mindanao as a whole is considered as one big growth area, it has several growth area subdivisions, namely:
Caraga (with 10 industrial zones);
Central Mindanao (key areas include Maguindanao, Lanao del Sur, Cotabato Province, Cotabato City, Marawi City, and Kidapawan);
Davao Gulf (key areas include Davao City, Davao Province, Davao Oriental, Davao del Sur, and Compostela);
Northern Corridor (key areas include Cagayan de Oro, Iligan City, Misamis Oriental, Bukidnon, Camiguin, and Lanao del Norte);
Northwestern Mindanao ( Dipolog, Zamboanga del Norte, Zamboanga del Sur, Misamis Occidental, Ozamis City, Oroquieta City, and Pagadian City);
SOCSKSARGEN (South Cotabato, Sultan Kudarat, Sarangani, and General Santos) with key areas General Santos City, South Cotabato, Sarangani, and Sultan Kudarat; and
Western Mindanao (Zamboanga City, Basilan, and Sulu).
Language / People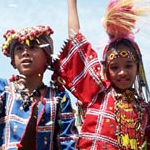 Mindanao, although largely associated with the Muslim community, is home to a very diverse group of people. Catholic settlements are largely spread within and alongside the Muslim communities. Many indigenous tribes are also settled here including T'boli, Yakan, Tausug, Maranao, Samal, and Badjao among others. The agri-based economic development in the region has likewise attracted other Filipinos from other parts of the country as well as foreigners.
A wide variety of dialects, both local to Mindanao as well as those from the Visayas like Cebuano and even from Luzon, are spoken. The many tongues spoken here is a testament to the diversity in cultures that thrive on this island. Filipino and English, however, are fluenty used for most business and official transactions.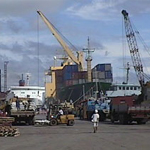 Major products / Industries
Mindanao's economy is by and large agriculture- and aquaculture-based. Its major products -- contributing big percentages into the country's domestic demand as well as total exports -- include banana, pineapple, tuna and other fish varieties which are used for canning.
At the same time, Mindanao hosts major industries such as steel, flour, metallic mineral, cement, food processing and canning, furniture production, and native handicraft.
Despite the wave of negative news related to the region's peace and order situation, tourism is a thriving industry given Mindanao's rich natural destinations, including beaches, diving spots, and eco-tourism sites. Mindanao's rich cultural diversity is also a come-on.
Mindanao is the Philippines' link to the east asean region. Trading ties are being strengthened in this area through the Brunei Darussalam-Indonesia-Malaysia-Philippines East Asean Growth Area (BIMP-EAGA).
Mindanao has a number of strategic domestic and international ports located around the islands.
Brief History
In the 10th to the 14th centuries, Islam spread throughout southeast asia, including Mindanao, the southernmost island of the Philippine archipelago.
Mindanaoans, who were under different independent sultanates, strongly resisted the Spanish rule in the Philippines which spanned three centuries. While Luzon and the Visayas were already operating under the Spanish colonial system of governance, Mindanao remained largely unconquered by the Spaniards.
During the succeeding American occupation and "independent" Philippine government, alliances were forged with the different and independent ruling sultanates in Mindanao. National laws on land ownership were established, forcing Mindanao into the country's fold which the Spaniards did not succeed in enforcing.
During the 1960s, Mindanao saw a phenomenal population increase, due largely to the migration of people from Luzon and the Visayas as encouraged by the government. Along with this population growth came a very rapid economic development. These developments, however, saw the marginalisation of a number of the formerly independent sultanates in Mindanao who continued to refuse to accept inclusion into the national system. Thus, the armed conflict in Mindanao, which dates back to the Spanish rule, continued to beset parts of the region.
As early as the mid 70s, the Philippine government promised to grant autonomy to several provinces in Mindanao, but it was not until 1990s that the Autonomous Region in Muslim Mindanao (ARMM, covering Lanao del Sur , Maguindanao, Tawi-tawi and Sulu) was established. This saw the partial resolution of the armed struggle in Mindanao with the integration of members of the Moro National Liberation Front (MNLF).
Administrations in recent history, including the current regime under Gloria Macapagal-Arroyo, continues to pursue peace efforts with another group, the Moro Islamic Liberation Front (MILF).
Today, Mindanao -- known as "The land of promise" -- is a bustling region with many urbanized areas, large industries and a strong agri- and aquaculture-based economy.
Information Source as of March 2005: BusinessWorld Online, Inc. Picture Source as of March 2005: Foundation Specialists, Inc., Bobby Timonera, Duane Ruth-Heffelbower