Zamboanga
Geography
Long known as one of the few bastions of Islamic culture in the country, besides central Mindanao, are parts of western Mindanao (composed of Zamboanga del Norte, Zamboanga del Sur, Dipolog, Zamboanga City and Basilan) and the Autonomous Region of Muslim Mindanao (ARMM, composed of Lanao Sur, Maguindanao, Sulu and Tawi-Tawi).
Jutting out like a finger towards Malaysia in the South China Sea, some parts of western Mindanao like Bongao, the capital of Tawi-Tawi, are even closer to Malaysia than they are to the Philippines – four hours by fast ferry to the nearest island of Sabah in Malaysia, and five hours from Zamboanga City.
Known as the Philippines' southern backdoor – which both Malaysian and Philippine authorities have failed to patrol and enforce maritime laws adequately – this is a region where centuries-old cross-border barter trade and even illegal activities have flourished unabated.
Zamboanga City (410.9 sq.m.) serves as western Mindanao's trade center, linked by fast ferry to the islands of Basilan, Sulu and Tawi-Tawi, as well as their adjacent islands.
Population (200)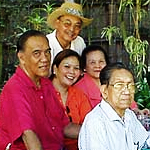 Zamboanga City: 601,794
Annual Growth Rate (1999-2000): 3.12%
Number of Households: 117,152
Average Household Size: 5.12
People and Culture
Zamboanga City's population is about 76% Christian and 24% Muslim. The five ethno-linguistic groups among the Muslims are the Subanons of the Zamboanga Peninsula, the Tausugs of Sulu, the Yakan of Basilan, the Badjao "sea gypsies," and the Samals of Tawi-Tawi.
Economic Status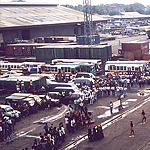 Zamboanga City, host of one of Mindanao's major economic zones, exports rubber, pearls, copra, mahogany and other fine hardwoods, fish, abaca, and fruit products.
Human development index: (HDI is a composite index of achievements in basic human capabilities in three fundamental dimensions: long and healthy life, knowledge and decent standard of living.)
National average: 0.660 in 1994, 0.625 in 1997;
Zamboanga del Sur: 0.502 in 1994, 0.521 in 1997;
Major products / Industries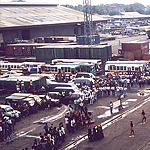 United States Agency for International Development-funded Growth with Equity in Mindanao lists western Mindanao's potential investment areas as agribusiness, marine and aquaculture, industry and services, infrastructure, and tourism facilities.
Its major crops are rubber, cassava, coconut, cacao, rice and corn.
Major exports are seaweed/carageenan, rubber, and marine products.
Its key industries are fisheries, aquaculture, and plantation agriculture.
The most promising areas in each industry are as follows:
Agriculture:
banana production and processing;
high-value crop production and processing;
high-value fruit production and processing;
industrial tree plantations;
ornamental horticulture;
post-harvest facilities;
rubber production and processing;
rubber wood processing;
small-scale integrated coconut processing;
small-scale integrated fruit processing; and
wood wool cement board production
Aquaculture:
milkfish and crab culture;
post-harvest facilities for marine products; and
seaweed production and processing
Industry and services:
gifts, toys and housewares manufacture;
ice plant and cold storage facilities;
industrial estate development;
oil and industrial gases depot; and
ship building and repair.
Infrastructure:
airport expansion and improvement;
energy development;
fast-ferry service;
port container handling;
seaport expansion and improvement;
telecommunications development; and
water supply distribution
Tourism
business hotel; and
ethno- and eco-tourism
Information Source as of March 2005: BusinessWorld Online, Inc. Picture Source as of March 2005: EMANILA.com Pty Ltd, L.A. ZAMBOANGA TIMES,Anthony James