davao
Geography
Located on the southeastern part of Mindanao, Davao City is tagged as the largest city in the world in terms of land area, covering 244,000 hectares.
Davao City is part of Davao del Sur province although owing to its size, it is usually treated as a distinct geographical area. The city is part of Region XI (Southern Mindanao).
Of the total land area, only about 10% has been urbanized, 43% is used in agriculture and the rest remains forested land.
32 kms. west of the city proper, Davao hosts Mt. Apo, highest peak in the Philippines at 10,311 feet above sea level.
Davao enjoys generally fair weather throughout the year. It hardly, if at all, experiences typhoons and storms. However, being bordered on the east by Davao Gulf, the city is visited by Amihan (unruly northeasterly winds particularly during the period July to September.
Population
(2000): 1,147,116
Annual growth rate (1999-2000): 3.04%
No. of households: 240,057
Average household size: 4.77
Davao City has the biggest population in the Southern Mindanao region and second largest population in the whole of Mindanao. But while it is considered as a major economic center, its annual growth rate is relatively low compared to other provinces in the Southern Mindanao region such as General Santos City with 5.10% and Sarangani with 3.78%.
Language / People
Davao City is a melting pot of many local, indigenous as well as foreign peoples.
These indigenous groups include the Bagobos who occupy areas along the slopes of Mt. Apo, the farming group of B'laans, forest dwelling Guiangans or Obos,
the Mandayas who are silversmiths, the Mansakas in Davao Del Norte and Davao Oriental, the Atas, the shore dwelling Kalangans; and the Manobos who live in riverside communities.
Other than the local dialect -- called Dabawenyo or Dinabaw -- Filipino, English, and Chinese are commonly used in official and business transactions. Other commonly used dialects include Ilonggo and Cebuano. Other dialects from the Luzon area, like Ilocano, are also relatively common.
Economic Status
Davao is a progressive city, serving as one of the economic, education, and cultural centers of Mindanao. Most agencies, both government and non-government, involved in Mindanao affairs maintain their headquarters here.
In 1993, the Invest in Davao program was launched to further propel its economy. Among the growing business opportunities here include property development, tourism facilities, agri-business and food processing, light industries (such as garments, footwear), and shipment.
Davao has a well-developed infrastructure system, including road networks, telecommunications, and information technology.
Major products / Industries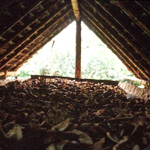 Owing to Davao's extensive arable land, the city has extensive plantations where various fruits are grown including, banana, durian, coconut, mangosteen, and pomelos. Other agricultural produce include hemp, ramie, corn, rice and coffee. Top export products include the above-mentioned agricultural produce as well as coconut oil, processed food, and furniture. Cuflower is also a thriving industry due to the good weather. A wide variety of flowers are grown here and the most famous is an orchid specie called waling-waling which is endemic to Davao.Given its natural harbor, fishing is also considered a major industry. Davao also houses sea ports, both government and private-sector run, where the traffic of products from the region passes through.
Davao is a popular tourist destination given its mix of urbanized setting , rural feel, and resort-type facilities. The city's annual Kadayawan Festival (every second week of August) is a popular event.
Brief History
It was not until the mid-1800s -- about three centuries after the Spaniards first set foot on the Philippine islands and only half a century before the Philippine revolution which ended their conquest -- when Davao was invaded by the Spaniards. Before this, Davao was largely ruled by Moro chiefs although there also existed Christian settlement areas.
According to local historians, Davao is derived from different words -- "Davoh", "Dabu", and "Duhwow or Davou" -- used by three Bagobo subgroups to refer to the Davao River which served as an important waterway for them. Davao could also be traced to the word "Daba-daba," meaning fire, which was the term used by ethnic tribes to refer to the land lying just south of the Mindanao region.
Transportation and communication facilities started to be developed in the area during the American Occupation.
It was declared a city on March 16, 1937 by then President Elpidio Quirino. It was later subdivided into three provinces, namely: Davao del Norte, Davao del Sur, and Davao Oriental.
Information Source as of March 2005: BusinessWorld Online, Inc. Picture Source as of March 2005: Euro-CB (Phils.) Inc., WowDavao.com